Newsroom
Company, Product, Event, and Industry News and Press
Thursday, January 20, 2022
|
Others
AGC Receives Supplier Award 2020 from ZEISS SMT
AGC (AGC Inc.: Headquarters, Tokyo; President, Yoshinori Hirai) received the Supplier Award 2020 from ZEISS Semiconductor Manufacturing Technology (SMT) (Headquarters: Oberkochen, Germany), a manufacturer of optical equipment related to semiconductor lithography devices.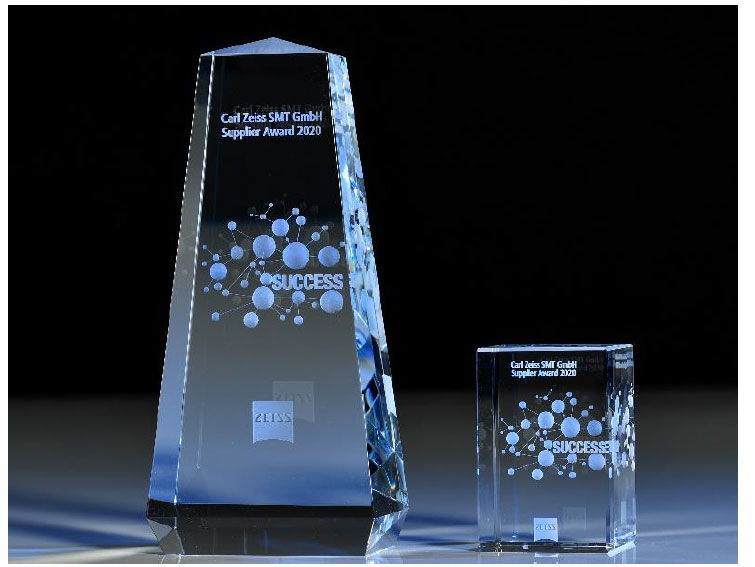 The AGC Group supplies SMT with synthetic fused silica glass for use in lenses for semiconductor lithography devices and silicon carbide (SiC) materials for use in semiconductor manufacturing equipment.
The Supplier Award is the highest honor given to the top-performing company from among ZEISS SMT's suppliers worldwide in a given year. For this award, AGC was highly evaluated for its stable and flexible product supply system and technological and cost competitiveness through continuous improvement. It received the award for the second time following 2009.
Under its management policy AGC plus 2.0, the AGC Group has positioned the Electronics business, including semiconductor-related materials, as one of its strategic businesses, and will contribute to the further advancement of the semiconductor industry.
Reference
■About ZEISS SMT
With its product portfolio and expertise, the Semiconductor Manufacturing Technology segment of ZEISS covers a variety of key processes in the production of microchips. Its products include semiconductor manufacturing optics – notably lithography optics – as well as photomask systems and process control solutions for semiconductor manufacturing. Thanks to ZEISS technology, microchips are becoming increasingly smaller, more powerful, more energy-efficient and more affordable. The electronic applications of these ongoing enhancements enable global progress in many disciplines such as technology, electronics, communication, entertainment, mobility and energy. Semiconductor Manufacturing Technology is headquartered in Oberkochen. Other sites include Jena, Rossdorf and Wetzlar in Germany, as well as Bar Lev (Israel) and Dublin, CA and Peabody, MA (USA).
https://www.zeiss.com/semiconductor-manufacturing-technology/home.html
Media inquiries
Chikako Ogawa, General Manager, Corporate Communications & Investor Relations Division
AGC Inc.
Contact: Fujiyama
TEL: +81-3-3218-5603
E-mail: info-pr@agc.com