Newsroom
Company, Product, Event, and Industry News and Press
Tuesday, March 22, 2022
|
Others
Optical Coatings Japan Receives Certificate of Appreciation from JAXA for Contributions to Hayabusa2 Mission Success
AGC (AGC Inc., Headquarters: Tokyo, President: Yoshinori Hirai) Group company Optical Coatings Japan (OCJ: Headquarters, Tokyo; President & CEO, Takanori Wada) received a certificate of appreciation from the Japan Aerospace Exploration Agency (JAXA) for supplying components to Hayabusa2 and contributing to the success of the asteroid exploration mission. OCJ is supplying optical windows for the infrared detector used on the Mobile Asteroid Surface Scout (MASCOT), the small lander loaded on board Hayabusa2. With features such as excellent thermal durability and a broadband, low-loss AR*1 coat (antireflective membrane), the optical windows were used in an infrared detector that made scientific observations of the surface and minerals of the asteroid Ryugu.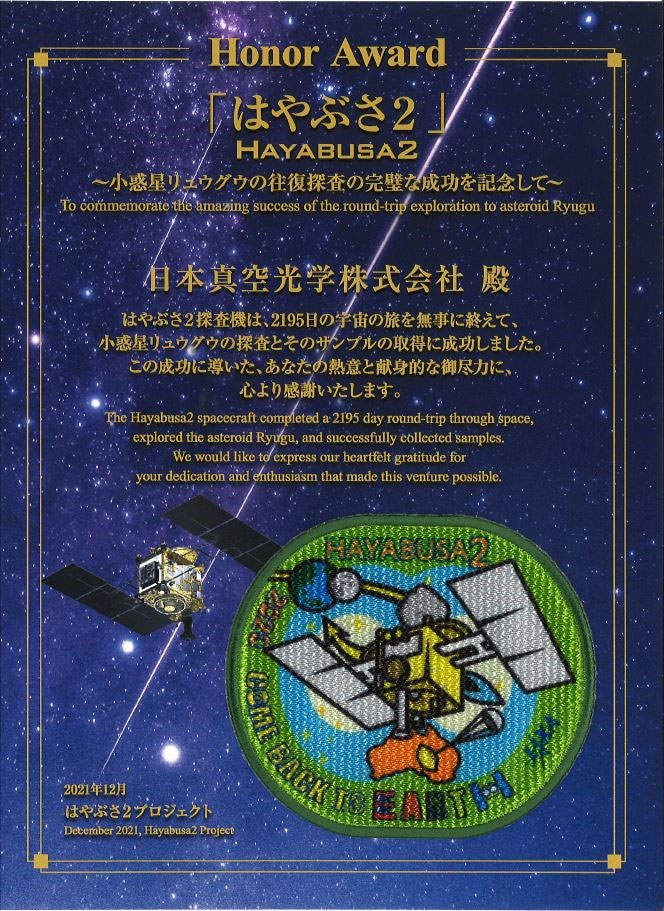 Certificate of Appreciation presented by JAXA
The AGC Group has positioned the Electronics business as one of its strategic businesses under the AGC plus 2.0 management policy. The Group will continue to contribute to further space development through its Electronics business, which is known for high technological capabilities and reliability.
*1:Abbreviation for anti-reflection
Reference
■About optical windows for infrared detectors
The MASCOT placed on board Hayabusa2 is a small lander developed by the German Aerospace Center (DLR) and the French National Centre for Space Studies (CNES). MASCOT separated from Hayabusa2 on October 3, 2018 and landed on the asteroid Ryugu after a 6-minute free fall. Measuring 30 cm x 30 cm x 20 cm (cuboid) and weighing about 10 kg, MASCOT moved autonomously on Ryugu and completed its mission by making observations at multiple locations for about 17 hours.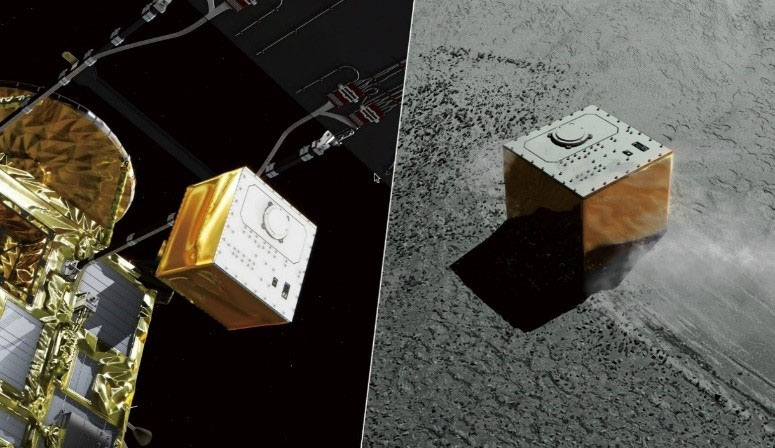 (Left) Illustration of MASCOT separating from Hayabusa2 (right) and landing on Ryugu (Image credit: JAXA)
An infrared microscope called MicrOmega was mounted on the bottom of MASCOT to investigate the types and properties of minerals on the asteroid's surface in the infrared range of 0.9 µm to 3.5 µm. MicrOmega uses an infrared detector manufactured by LYNRED (https://lynred.com/), and optical windows manufactured by OCJ were used for this infrared detector.
OCJ's optical windows contributed to the filming of Ryugyu's surface due to its excellent durability against thermal cycling and AR coating with suppressed reflectivity in the broad band from 0.9 µm to 3.5 µm. Optical windows manufactured by OCJ offer excellent thermal durability, high light transmission, and high light resistance in any wavelength band. Furthermore, they can be metallized for package encapsulation on the periphery including the sides and thus are used in a wide range of fields including space exploration, atmospheric measurement, and security.


Optical windows for infrared detectors manufactured by OCJ
■ About Optical Coatings Japan
OCJ/Optical Coatings Japan|Home
MEDIA INQUIRIES
Chikako Ogawa, General Manager, Corporate Communications & Investor Relations Division
AGC Inc.
Contact: Fujiyama
TEL: +81-3-3218-5603
E-mail: info-pr@agc.com
Share